Almost as breathless as ever,  gripping imaginary shoulders, ' the writing is as close as i can get for now,' i say.  'that's as close as it gets' and i say, 'yeah, fifty percent's as much as what gives gives' but the car is already spinning out of my peripheral vision and here's to the more prevalent blur of lights.  Well, put 'em up, what's it matter, when they are no longer the present, now is the only half of time we ever get.
Looking at Robert Wilson's stunning Mobius strip sculpture at Fermi Lab, a look at the mobius object up close, Wilson made it himself,  of tactile strips of silver metal, appealingly unidentifiable, thick and pillowy like lead, shiny like stainless steel, and dusty like titanium.  It's go find it in the Fermi visit days journal – the metal invented at the lab in order to construct the experiments.  Wilson's sculpture, we have discussed already, is situated at the center of a shallow, shiny black granite pool of water, constructed clearly as the mouth of the collider, at the little middle hole where the particle flies there stands nothing other than the Mobius. Wilson, I hope he doesn't find me even admiring him from the dead.  Shh stay away I can't do math like that, I say to the billowing sheets of the neighbor's window.  Wilson drives his immaterial finger into the orb of my eye and directs it through my inward catalogue of photographs, to the one of the , ah, I'll have to show it…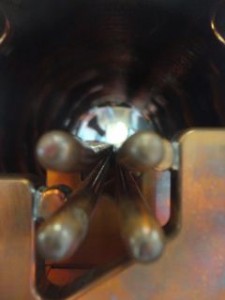 It's one thing to pine away and another to perceive reality bending to one's desire.  My left ear is burning like one of  the pierces is angry.