Get Simpler, are the words I hear in every changing way, get simpler. I had two conversations last night about the work being 'real,' one with an academic writer about it being unlike projection art and video art because every element of it is made by me and that's for true, I am soldering the light emitting diodes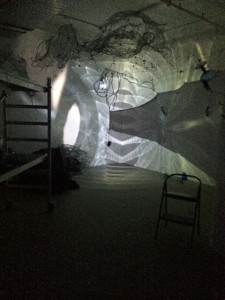 I recall Victory over the Sun – Malevich can barely stand bodilessness for wanting to run through these diaphanous, light catching panels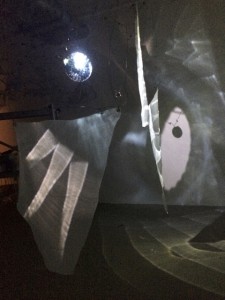 Baby tell me what i'd say
 but I had already seen it, how the work made its way, this opening and that, to say itself after so long, in light, light and shadow, didn't it come to the balcony shadows,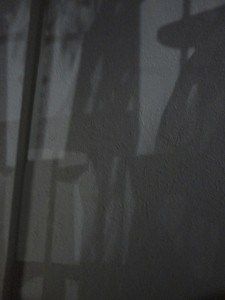 didn't it, and wasn't it also in the silvery parts of At Least Ten Leagues Distant From Here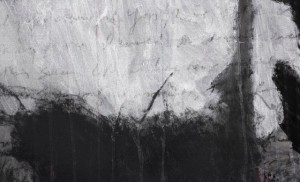 The piece has made me move so slowly, and I hear it now in the drums of Kashmir, the camel's gait, the whole song is a story told on a camel, ooh my baby let me take you there, I see their dromedary sloulder (sic) blades churning  slow souler shoulder louder  – the work shows it perspectival, made of light, made of perspectives of light, angles of approach through lenses, angles of view of the lightshadows, the lightfall, the pool, and the radio says it took everything and way more not knowing, the technique being listen for it, move slowly slowly churning backwards rolling along bony tufted elbows, proof the Universe thought to show everything. Total transparency is invisibility, to show is not exactly to make transparent.
There is a conversation to be had about the baffles in front of the light being interruptions, what is the fave word, I go deeper for the word, and find my philosopher's voice runned away across empty, old rooms so long ago they are already perfectly dusty again. the word means developments bubbled up from the inside that cause pattern shifts. begins with i. gets used in D&G type discussions all day long. maybe if we think real hard,
I sit still and wait for the word to come to me, and instead arrive difficult light industrial noises, the echoing PA system at the grocer's warehouse across Throop Street, Godzilla trapped in the bigger freight elevator in this building. The professional emails I need to write, the preparations to be in Kentucky. And not to miss the urban studio while i'm in the woods, and marvel at how there are both, with a mind-cleansing 5 ½ hour drive between.
'see whut yewer cree-yate-ing?!' Tami would say, her West Virginia twang pocked with the faint smacking of her dental bridge.
About how blocking the light is actually a revealing process on account of the limitations of perception.  Blocking light makes very dim phenomena visible. Is it my hand that leaves the metal crinkled, partially affixed, a far flap wrenched uselessly skyward. And then covered up with equally crinkled, careless baffles. I practically disown them when in fact they are one of the crafted cruxes of these optical compositions.