I went to NYC for 2 days this week and barely told anyone.  My mission, I told myself:  to see the Allman Bros play the Beacon one week before the last time.  I also did four gallery visits, met with my electrical consultant, and had a totally unexpected, full-fledged magical bookstore visit.
In the Hauser & Wirth Gallery in Chelsea with the Monika Sosnowska sculpture Tower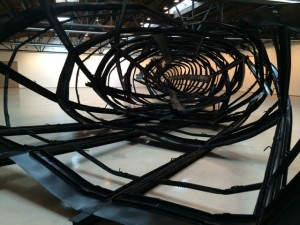 when the guard tried to boot me,  I got to say I had permission from the receptionist to sit on the floor in its entrancing field, typing.
Monika's Tower, a stationary object, seems to spin.  The thing is windows, the steel infrastructure of  just the flat metal skeleton without the glass, many stories in a single panel, and the metal is elegantly bent like Shiva.  It barely touches the ground, in the perfect configuration. Monika is a Real Sculptor, three points on the ground, how to defy gravity.  and this is a masterful use of space.  I can't imagine how it was made, am I supposed to?  Was it even made out of wall unit components or did she fabricate them one bent piece at a time?  how did it get into this room, was it made in this room?  Of course I haven't picked up the paper yet, good god, therein lies the rest of my eternal perception of this work, let me come to it naive, open, let me hear it say itself.
I find out she lives and works in Warsaw and I think of the pictures of the piles of tiny rubble that was Warsaw after the war, and Tower takes on an additional energy – that Monika Sosnowska could bring the elegant anonymity of destruction, the calamity, bring it to New York from Warsaw, drawing the lines of sameness across diversity and distance with Mies Van Der Rohe's glass curtain walls.
Earlier in the day I had walked through Sam Falls' installation Light Over Time in the Metrotech Commons in Brooklyn.  And now in the hypnotizing presence of Sosnowska's Tower, I know what the art gods have me doing here in NYC for the Allman Bros Beacon Theater concert… Space – examining Space, what the works do with and to the space around them.
Space.  Tower anti-breathes, it vacuums the room, voids it, looking nearly treacherous like an unmanaged demolition site, and beckoning too, compelling, its pull to examine the jelly-rolled end of this gargantuan architecture-sized sculpture installation mega creation, that reveals itself as a swirl of three inextricably nestled pieces, the raw edges of the beams painted perfectly all 360 in satin sheen black industrial paint, perhaps even powder coated.  I can see with my maker's eye that there were touchups from a spray can, and there would have to be, no one sees it but me and 4 other people I wish I knew.  There's a minimum of buckling,  enough to bring the piece into the violence of life.  The piece is transformation, destruction, command of the space, command not just of the thoughts and feelings, the piece has its own gravity.  It's steel and it flows like water and air and terrible imagined cyclones on three dainty little no-tip points.  Bravo Monika Sosnowska, let me see the other work she has made.  And where she's been doin.  And how the handles to open the windows are in place turned all this way and that
Before I leave any show, I ask myself what I would do in the room.  It makes me imagine what would I do in this space.  Divide it into lighter and darker areas using mirrors, make it traversable but not mappable with light. I would cut it diagonally and figure out how using a mirror to make half dark and half bright with one light source. I would capture the trough of light the two rows of five skylights make.
seent:
these sights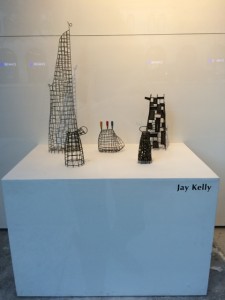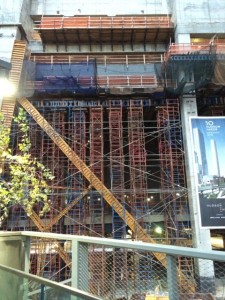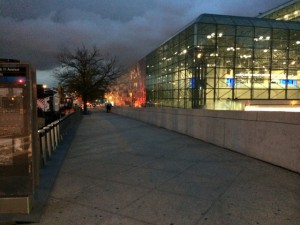 and these other shows – Sharon Horvath: Varanasi Notebook – Sharon makes her own paints, and their sheen and thickness vary to suggest different grades of gauche, or powdery oils.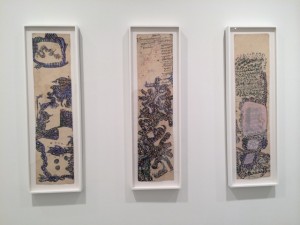 Two shows at The Drawing Center, one of which features the works of two of my former professors, including Anne Wilson who is transforming the space by winding thread around the architectural columns.