I see the ladies at work, the young women running everything, and they are fierce. My level of ferocity used to be a high water mark, and not now, these ladies have technology, they have artful tattoos up and down their bodies, they all look amazing,  Of all the art I saw at Art Basel Miami Beach 2014 last week, a tote bag one of these smart ladies was carrying seared into me. It sort of read, 'I write for myself and for strangers. (and this middle part is garbled for how fast I consumed the gist of it) there are others so real they can never know the writer 's thought, can never feel the writer's gaze upon them, leaving only strangers for readers. I write for myself and for strangers.'-  gertrude stein. Holy hellfire. Now there's fierce.  She's been dead 80 years and hers is the first name I recall from the big art show a few days ago, her words with their own life now, their own materiality, white vinyl letters ironed onto a spiffy black canvas tote bag.
I go as a maker,  with my not-so-socially-focused eye.  at first Basel Miami 2014 is off-putting, cold, it's The Market, the liver of art. I'll never get away from the attractiveness of craftsmanship, but objects are wan if they have no life behind them. At Basel I went from magical object to magical object (and they made themselves known like glowing crystals) I found that most of them are artifacts of investigations – Ai Wei Wei's brilliant glass cube, what could be simpler, what could be more difficult materially, and how it is never any one thing and always relative to the sight of it.  Ai Wei Wei… free the mind of the people.  Most of the magical works are craftsmanly, and merely aspects of their extracorporeal selves.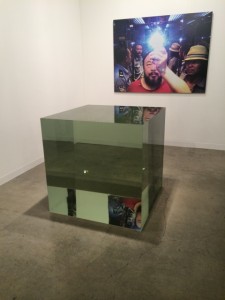 Laure Prouvost nails it with her film How to Make Money Religiously. I'm not going to spoil it even though the clip is an excerpt only.  She gets the message bringt in the modern world. Let's see all her movies, view all her projects.
Or the 12' long ink drawing I fell for from across the aisle, headed toward it, having to toss away any pretensions to meaning and fall into its inky beauty. Only to find it was a drawing by Ernesto Neto, who is out to give the personal experience, and I wanted to know – why did he produce this drawing.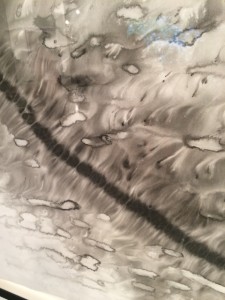 Elsewhere in the show I find this Ernesto Neto as a public installation
I look at the canopy, and no one is lying under it, it's a chakra canopy, and they are standing there separate like skeptical geese, no one to be the first one to do it, to do the thing everyone does, to lie down.  No one lies down in the netto. And it's a netto.
Crowd and I got to run alongside Theo Jansen while he made for the wind-powered Strandbeest to go, maker maker.
He runs back and forth for his tools, constantly aware of the condition of each moving part, 'I think this one's got a hitch,' the tells himself out loud, and like a pit surgeon he is in with zip ties and tubing, bending and settling the beest's ski feet and bent tube hooves on the viscous hard packed Miami sand at the top of the beach. PVC.. polyvinyl chloride? It can't be good.  It's plastic tubing, and the dry whickity squeak squeak it makes ambling down the beach away from its maker all by its fast undulating balloon gills sailing the whitckity wind self until it folds, or limps to a twisting, reluctant stop. And they never go for long by themselves in the pvc pipe format, in the large scale, because of the bending, and the cranky wind. They need their maker, at this scale, so far. But at some point 3D printing is going to be monumental in size capabilities. And then those Strandbeests what with graphene coming to take over the world, will walk the planet like the last made things to have seen their makers alive.
The rigor, you should see the dry pond basins of Collins Park arranged wall to curving cement wall with severed and truncated and dis-membered Strandbeest bodies,  parts of the contraption-being that's got his mind and his hands. Its looping elbows and stretch-twisted fastening, the this'll-do system magically perfect for the task of adjusting the beest's level of brokeness in the wind. Maker maker maker,
in the fast world, with it's instapast, I wonder why the social speed factor, chicken and egg, many art is faster as well, fast being, fast consumption, fast presentation, Laure Prouvost bringing The Message using the strobing digital way the world sees now. She has to whisper it – how powerful, how unusual, and arresting.  what does a fast world look like through slow eyes? Desire. That's what.  the creative essence, being a little shifted from where you want, being able to see it from here, or, as John Prine says,  '…with Paradise waitin,  just five miles away from wherever I am'
Olafur Eliasson Five Circle Rotation
Anish Kapoor
   Buckminster Fuller at the Perez Art Museum
the world-punctuating Alexander Calder
new 2014 work by Erin Shirreff – rolled steel.
Nancy Grossman – 1967 leather assemblage
move into the work more muse breathed into my ear at every turn. Be specific, each one a little story a little shimmering stone, make it readable – make it for the Other. 'I write for myself and for strangers, this is the only way I can do it'