I open my eyes past the dozen tasks of the day, accomplished… all in a row falling into place.  I paid the bills, except for the monstrous one that for lateness or difficulty or gut rot has to wait until next time, over and over, until I'm in collections for a free trial no risk offer I forgot to put the sticker in the right box and mail back.
On the eve of installation, access to my studio was almost totally impeded by a Mexican carnival, with whirling rides and an amplified mariachi band, 3-foot spools of cotton candy on tall sticks, and everybody really nice about it when public security escorted my open-windowed van as a float loaded with art and installation tackle, to the cop on the other side of the intersection, who waved me quickly across like an invisible perpendicular tow through the moving mass of carnival foot traffic.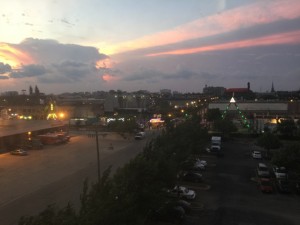 Now I'm in the studio with what the work is made of: drawings and glass, minerals, lenses, wire, extension cords, and nattering gremlins of doubt who snatch away what I was looking for, and only put it back after I redirect.
I begin with meditation, which as the opening of an installation,  transforms my mistakes into better plans.  I could not, would not miss the packing meditation for any installation.
There will be movement and matching my voice to the ringing crystal bowls, which works the wobble out of the mind.  In this quieter place without the jangling din of the day, I'll refer to the lists and drawings, and walk myself through every aspect of the installation, gathering tools and components, checking them all for readiness and work-rightey-ness as I go.  it takes many hours.  the ringer's off, and the music's on. and I have 3 sandwiches. It's a good thing the police let me in here to do this.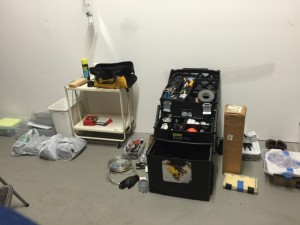 Machine says, let it be
allow
don't interfere
conjure
let it be
i walked through the whole setup, and while there's work to do at work, i am fully equipped.  My grandfather kept his fasteners in small glass jars, their metal lids  affixed to all four sides of a one-by spool that rotated, so he could peruse his collection of saved and spared hardware bits that I'd love to decribe in words instead of getting now to the glass and optics. But it's time to get the glass and optics together. their boxes await.
all its skeleton and musculature packed, its features drawn in pen and loosely considered only for possibility, now is the time the work selects its optics. I meditated, pacing and packing, to come to this. I drink coffee straight up at 11:38 pm and prepare my lighting fixture, so I can illuminate these various pieces of glass in the dark.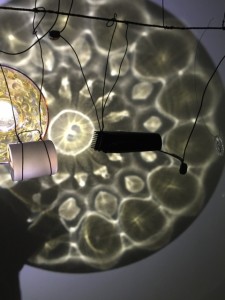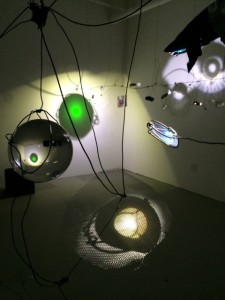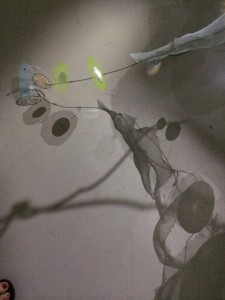 rain means change. rain means change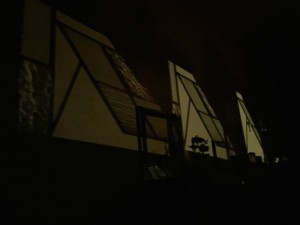 let it be
I haven't got anything to say . i'm thinking in this sculpture. in the first stalactite.
and sleep. im tired of my efficiency. i'm tired. this night;s sleep will help me.